Are you worried about passing a drug test? Have you used substances in the past 90 days that may show up on a hair follicle test?
Hair follicle drug tests are often used by employers and law enforcement because they detect drug use up to 90 days after the fact. You might not have done any substances in months, but still, have a positive drug testing result.
The Nexxus Aloe Rid shampoo is designed to strip toxins from the hair follicle. This helps people to pass hair follicle drug tests.
Ultimately, it's the best-performing detox shampoo on the market. We've taken a look at how it works and how to make the most of a purchase.
One important note is that this shampoo should be used for several days prior to the drug test. If you want a shampoo that performs well on the day of the test, it's best to take a look at some of our other options.
About the Aloe Rid Shampoo
The goal of the shampoo is to remove the buildup of residue, pollutants, and minerals. It also helps to remove impurities that dull hair, so you end up with a healthy shine. The antioxidants in the shampoo destroy the free radicals that can come with chemicals.
Some key facts about the shampoo include:
It comes in a five-ounce bottle.
You can get up to 15 washes with one bottle, which allows for maximum efficacy.
The microsphere technology allows for gradual release of antioxidants.
The cleansing formula removes chemical residue from the scalp and hair follicles.
You can use the product for 3 to 10 days prior to your test to have the best results.
This is also a key piece of the Macujo method, which is a way of detoxing so you can pass a drug test.
The Aloe shampoo is the only shampoo on the market that works this well for drug tests.
How To Use Nexxus Aloe Rid Shampoo
Like most shampoos on the market, including non-detox ones, there are quite a few ingredients on the label. The most powerful one is propylene glycol. Propylene glycol can work into the hair shaft and cleanse the follicle itself of toxins, something that most other shampoos cannot do.
This shampoo is very easy to use. All you need to do is coat your scalp with it. It's recommended that you do 15 washes prior to your drug test, usually washing your hair several times a day in the week leading up to your test.
You need to be thorough about working the materials into the hair. It also needs to sit for at least 15 minutes prior to rinsing out.
One thing to keep in mind is that this product alone may not be enough to give you a clear drug test. That's because the grease on your hair might prevent the material from penetrating the follicles. So you'll need to use another shampoo to strip the grease.
The Aloe Rid shampoo also works best when combined with a same-day shampoo, which you'd use a few hours before taking your drug test.
People have noted that shampoo even works for thick and coarse hair. So if you're of African descent or otherwise have kinky hair, this is the best shampoo to use.
Also Read:- Dad Grass Review: Why is it so Famous?
How Does a Hair Follicle Test Work?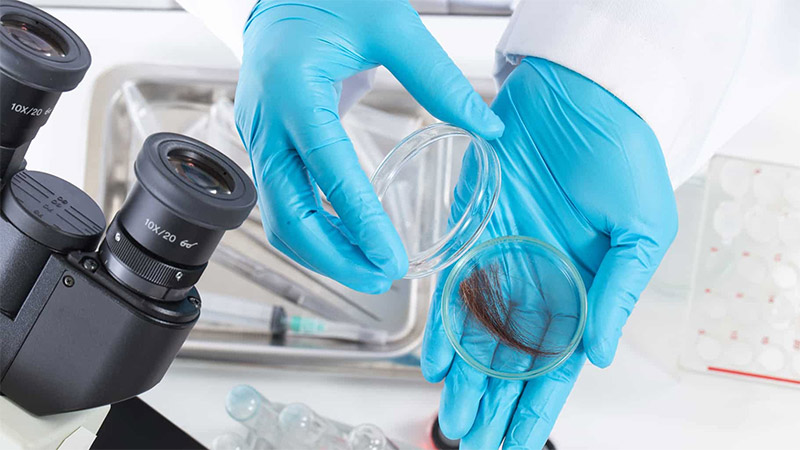 A urine drug test can detect traces of substances used anywhere from 3 to 30 days before. But a hair follicle test can detect drug use much later than that. Hair drug tests detect substance use up to 90 days after the substance is ingested.
This is because traces of the substances are deposited in the hair follicle. As the hair grows, the substances grow out with the strands. They can then be detected on drug tests. Because of the growth cycle, it usually takes about seven days for drugs to become detectable on a hair follicle test.
Drug detox shampoo is most commonly used to remove THC, the psychoactive component in marijuana. However, it can be used to strip traces of other drugs as well, such as opioids and amphetamines. No matter what substance you've used, this shampoo can help.
If you're bald or have a shaved head, the test will be done by using body hair.
During a hair follicle test, the tester will remove some hair from your head with scissors. They will then place it in a sealed bag and mail it to a lab. Some testing kits allow for on-site results without needing to be mailed to a lab.
Negative test results tend to be available in about 24 hours. If a test result is positive, the results can take up to 72 hours to come in because the lab needs to do additional testing.
The first test confirms the presence of drugs. The second test identifies the type of drug. It also helps to give the laboratory more concrete information so they can eliminate the chances of a false positive.
Also Read:- Testclear Review For 2022-2023
The Macujo Method
The Macujo method is the best way to cleanse your hair prior to a hair follicle test. The Aloe shampoo is one of the key components. The method helps to open the hair follicles so that the shampoo can work effectively, rather than being blocked by grease or other materials.
You'll be more likely to find success with this method if you stop using substances for at least a week prior to your test. It's also easier if you don't use substances heavily. However, heavy substance users may also find success as long as they're rigorous about the method.
The materials you'll need to use include:
The Aloe Rid shampoo
Ultra Clean shampoo for the day of the test
Rubber gloves to handle the chemicals
A shower cap for use while the ingredients are soaking
Heinz vinegar, which has an ideal acid content
Deep cleansing shampoo with salicylic acid
Powerful liquid laundry detergent
Step-by-Step Guide to the Macujo Method
The first step is that you need to stop using substances as soon as you find out about your upcoming test. If you suspect you may be asked to take a drug test, you'll also want to stop doing substances.
Stopping your substance use helps reduce the chances of more chemicals showing up in your drug test. It can take seven days for drugs to appear in your hair after you smoke. So if you start your hair cleaning regimen without stopping your substance use, you won't address the future chemical buildup.
The next step is to soak your hair in warm water. Make sure that your hair and scalp are both fully wet.
You'll put the vinegar in your hair next. It's normal for this to lead to a slight stinging sensation due to the acid content. That's okay. It shouldn't do any real damage to your head.
Before you remove the vinegar, you'll massage the cleansing shampoo deeply into your scalp. This is the shampoo with salicylic acid, not the Aloe Rid shampoo. This may lead to more tingling sensations.
Put a shower cap over your hair and return to daily activities. You should leave the vinegar and the shampoo on for at least an hour. This allows it to penetrate deeply and remove the substances that might block the detoxifying shampoo.
Once you've done this, rinse the hair with water.
Next, wash your hair twice with the Aloe Rid shampoo. Make sure that you let it sit for at least fifteen minutes with each wash, as this allows the chemicals to do their job.
Now you can wash your hair with liquid detergent. Keep in mind that liquid detergents contain chemicals that are hazardous to get into your eyes, nose, or mouth. Make sure that you don't get the detergent in your eyes.
You might choose to protect your eyes by wearing goggles. Just make sure that you wash the hair underneath the goggle strap as well.
Repeat this a minimum of three times. Some people say that it's best to do this at least seven times prior to your drug test if you want maximum chances of a negative result.
On the day of your test, you'll use Ultra Clean shampoo. This helps to remove toxins, but it's only effective for a few hours after you use it. It's also not a hundred percent effective if used alone.
Important Things to Know About the Macujo Method & Aloe Rid Shampoo
There are some important things you should keep in mind when you're using the Macujo method.
The first is that it won't work if you aren't using the Aloe Rid shampoo. There's a chance that you might pass if you don't smoke heavily or haven't smoked in a long time, but if you want a surefire means of passing your test, you'll need to invest in the Aloe Rid.
The price of the shampoo is definitely worth it when considering the benefits. Hundreds upon hundreds of people have passed their drug tests using it.
It's highly recommended that you use the Macujo method several times prior to your drug test. Seven times is the minimum for a near-guaranteed pass. Even without using the method multiple times, it has been shown to work around ninety percent of the time.
If you're being given a urine test in addition to a hair test, you should make certain diet and exercise choices to process substances out of your system. As mentioned, it's important to stop using substances immediately when you're concerned about a potential upcoming test.
You should also wash or replace things that have touched your hair. Hats, headbands, pillowcases, and sweatshirt hoods can all have traces of substances that they pick up from your hair. Don't put them back on until after your drug test.
How Nexxus Old Style Aloe Rid Shampoo Feels
So we've established that the shampoo does what it's supposed to do. But how does it perform when being used?
You might be concerned about potential chemical smells. But the product actually smells fresh and clean, with a sweet and herbal scent. It's not a harsh or aggressive smell, and it's also not cloying.
The shampoo feels like a thickened gel. It doesn't flow quickly like some products, which is helpful when measuring your doses. If you have coarse hair, you can use about a half dollar sized portion. For those with finer hair, a quarter-sized portion should be effective.
Although the shampoo is brightly colored, it quickly dissipates into the hair. The lather is thick and foamy, so a little goes a long way. Your single five-ounce bottle should give you enough product for fifteen washes.
There's no need to work the shampoo all the way through the ends of the hair. Instead, you should just focus on the three inches of hair closest to the scalp. This helps you save on the cost of shampoo, especially if you have long hair. Only those three inches will be tested by the lab.
After you use the shampoo, you might be surprised by how good your hair feels. Despite the deep cleansing formula, you're unlikely to have very rough or dry hair. You also don't have to worry about seeing oil or buildup or residue from the shampoo.
One note is that if you have dyed hair, you might need to redye it after using the shampoo. It can strip some of the colors from the crown of your head.
The key behind success is aloe vera. This soothing substance helps to rehydrate the hair after the chemicals cleanse the scalp. It also prevents unpleasant dryness and itchy feelings.
If You Don't Have Time
It's most highly recommended that you use the aloe shampoo every day for at least three days prior to your test. But what if you don't have that much notice?
Aloe shampoo can still help you. You can use it for one or two washes prior to your drug test. Then you can pair it with the Zydot Ultra Clean shampoo. This shampoo is meant to be used on the day of your test, and it's effective for several hours.
The combination of these two shampoos can help to clean your hair and remove contaminants like THC and amphetamines.
Final Thoughts On Aloe Rid Shampoo
The Aloe Rid shampoo is the best detoxifying shampoo on the market. It works best if combined with the Ultra Clean shampoo and the Macujo method. However, you can still see some results if you use it on your own.
Some of the substances that the shampoo can cleanse include:
THC
Amphetamines
Methamphetamines
Opioids
It penetrates deep into the scalp to remove chemical traces from the hair follicle. One bottle comes with enough shampoo for fifteen washes. It's best to use the entire bottle for maximum efficacy.
Though this is a rather pricey shampoo, the price tag is worth it. Thousands of people have confirmed that it helped them to pass their drug tests.
Are you worried about how you're going to pass a drug test? Do you think your career or your dream job might be on the line? Then this shampoo is the solution for you.
Make sure that you do everything you can to help yourself pass your test. That means stopping your substance use before the test and using the Macujo method if possible. The Macujo method helps to strip the hair of grease and residue, so the aloe shampoo can penetrate more deeply.
Ultimately, we highly recommend the Aloe Rid shampoo because it does exactly what it promises.